---
---
There's nothing better than feeling the sand between your toes while walking down the beach, blissed out with salt in your hair and a smile on your face. But we know that some spots require a walk up a rocky trail, dirt road, or highway, so unless you're a shoeless warrior who's been diligently working on your summer calluses, you might have a bad time treading over pebbles, sharp rocks, and/or broken glass.
How about wearing some shoes? A novel idea, I know. Whether you're looking at a long approach due to COVID-related parking lot closures or just a leisurely stroll down the beach, here's a cross-category assortment of essential sandals to keep you comfortable along the way.
We judged this smorgasbord of sandals/flip-flops/slides/whatever you'd like to call them based on a few measures, namely: style, comfort, durability, and price. Obviously, that's a sliding scale, and depending on what you value in a sandal, you may have a different opinion. Ultimately, if you're a surfer in need of a new pair of sandals, you can't go wrong with any on this list. Now, enjoy keeping your feet safe from glass and burns on that hot, hot summer asphalt.
1. Rainbow Single Arch Sandals
Comfort: 4/5
Style: 4/5
Durability: 5/5
"In 1974, I came across yet another broken sandal discarded on the sand, just like the ones I had found surfing on beaches around the world. That day I decided to make a better one. I was determined to make a comfortable sandal that was durable enough to last, and strong enough to hold together." – Rainbow Founder Jay "Sparky" Longley
Nothing beats a good leather sandal, and Rainbow is probably the most timeless pair out there. Molding to your feet with rich nubuck leather and varying densities of super-soft sponge rubber, the advantage is that the more you wear them, the better they feel — they also last a really, really long time. As the guy who taught me to surf as a kid once told us, "When I'm on my deathbed, I want my heart to be like my Rainbows: well-loved, beat to shit, and full of memories."
Comfort: 4/5
Style: 4/5
Durability: 5/5
OluKai is awesome for a number of reasons, and their Nui Sandal might just be your new favorite. Just like your favorite board, it features entry rocker for a smooth step, doubling down on comfort with a shock-absorbing EVA footbed lined in soft leather. It's also great for wide feet, made with ergonomic construction, and boasts exceptional traction. Finally, a portion of all proceeds go to the Ama OluKai Foundation, a Hawaiian nonprofit which "works to preserve land and ocean, serve our communities, and maintain the Hawaiian culture and traditions."
Comfort: 5/5
Style: 4/5
Durability: 5/5
There's not much better than a waffle cone. Aside from a waffle cone texture on your feet. That might be slightly better. This lightweight sandal from footwear icon Vans is just what your peddlers are looking for post-surf. The UltraCush lite is a relatively new feature that has been making Vans footwear a solid order of magnitude more comfortable than ever before, and applying it to a sandal was not a bad decision. In fact, it was a great one. If you're the saucy type, you'll enjoy broadcasting their punk-rock checkerboard, too. Grab a pair here.
Comfort: 5/5
Style: 4/5
Durability: 5/5
Okay. OluKai is kind of the Bently of sandals. They spare no detail (or expense) when it comes to features, and they're comfy little boats for your feet. Beyond that, the brand does a hell of a job with giveback in Hawaii, which is the right thing to do since Hawaiian culture is such a tremendous part of their brand. When it comes to the Ulele's specifically, they're lightweight, versatile, and contemporary. The footbed has an anatomical fit with a lightweight compression-molded EVA midsole. The outsole has non-marking Wet Grip Rubber and all sorts of traction to safely transport you from the ocean to the cocktail zone.
5. Freewaters Basecamp Sandal
Comfort: 5/5
Style: 3/5
Durability: 5/5
"As global citizens who love to travel, surf and chase waterfalls, co-founders Martin and I have a longstanding and deep respect for the healing power of water. At Freewaters, we believe access to clean drinking water should be a fundamental right, not a privilege." – Freewaters Co-founder Eli Marmar
You can feel good about this flip-flop in more ways than one. With super-soft Thermarest footbeds (yes, the same Thermarest that makes amazing sleeping pads), the Freewaters Basecamp Sandal is like a mattress for your foot. The Inertia staff can attest. They. Are. Comfortable. That soft, perforated texture feels nice on the bottom of your feet. Adding durable webbing straps and a grippy rubber outsole, it's entirely free of animal products, plus a percentage of Freewaters' total sales goes towards grassroots organizations providing clean drinking water to Haiti, Kenya, and the Philippines.
6. Vans Slide
Comfort: 5/5
Style: 4/5
Durability: 5/5
Vans take on the slide is just as it should be. Simple. Classy. Comfy. The slide's a classic silhouette, and it takes the frilly tomfoolery out of sandalry. It's got a synthetic leather footstrap, and your feet just go, "Awwww yeah," when they slide in there.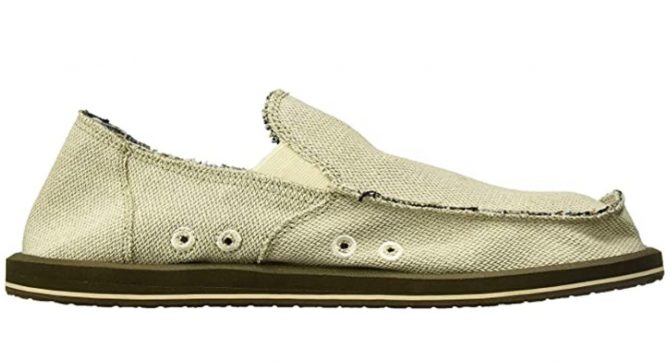 7. Sanuk Sidewalk Surfers
Comfort: 4/5
Style: 3/5
Durability: 4/5
Price: $59.95
Shoes plus sand: typically the worst combination ever, but not with these. Perfect for beachside strolls, Sanuk Sidewalk Surfers for men and women actually feel great when they're full of sand (but also when they aren't). Built with a closed-toe but plenty of wiggle room, you might think these are shoes, but Sanuk calls them "sandals in disguise" with a flexible feel that rivals any sandal. Sidewalk Surfers also incorporate an antimicrobial additive to slow the growth of odor-causing bacteria, making these barefoot styles easy to clean once they start smelling like feet: just throw them in the washing machine and air dry. Piece of cake.
Buy now in Men's.
Buy Now in Women's.
8. Reef Fanning Sandal
Comfort: 4/5
Style: 2/5
Durability: 4/5
What's better than a beach beer? Get it cracking with Reef's Fanning Sandal. This flip-flop not only offers enhanced water resistance, ample arch support, and a cushioning airbag at the heel (think Nike Airmax in a sandal) — Mick's signature model also includes a bottle opener on the sole to celebrate your sesh with some suds. And it has an air bubble! Who knows when that extra air bubble cush will come in handy, but, hey, you're crackin' beers on the beach. Be ready for anything.
Comfort: 5/5
Style: 4/5
Durability: 5/5
This is Cobian's take on the classic beach sandal. The Las Olas 2 has built-in arch support and is made with synthetic leather designed to get wet and mold to the shape of your foot.
10. Reef Stash Slide
Comfort: 4/5
Style: 5/5
Durability: 3/5
Stash it! Stash what? Up to you. With enough room for credit cards, keys, and…other beachside essentials, the Stash Slide from Reef is super convenient — not to mention insanely comfortable. Featuring an easy slip-on silhouette with padding above and below, plus quick-drying materials, a non-marking outsole, and biodegradable construction, it's so much more than just another pocket (though seriously, that's a game-changer).
11. Havaianas Men's Brazil Flip-Flop
Comfort: 1/5
Style: 5/5
Durability: 4/5
If you're looking for something affordable and stylish, you could do worse than Havaianas. That said, the thong on these beasts can be kinda painful for your feet. You either have to learn to live with that little throb between your big toe and the second one, or eventually break them in. They come in lots of color options, and they're durable. So…depends on your priorities. Comfort wouldn't be the top one. Price and style would be.
12. Birkenstock Arizona Soft Footbed Sandal
Comfort: 4/5
Style: 4/5
Durability: 5/5
Breaking in your Birks can be a pain, but on the other side of that pain awaits footwear glory. This updated take on the iconic Arizona Sandal has the bonus of a super-soft cork footbed that breaks in faster so you can skip the waiting period and get going. So worth it.
13. Hoka One Ora Recovery Slide
Comfort: 5/5
Style: 1/5
Durability: 4/5
Made for marathon racers recovering from long (like, really long) runs, these ultra-cushioned EVA slides offer slip-on ease and ridiculous comfort that's great after a long day of thigh-burners. Again, not the most stylish on this list, but if they offer marathon racers reprieve, you can bet the dogs are gonna feel might comfortable in these slippahs. If you're the kind of person who refers to your feet as dogs.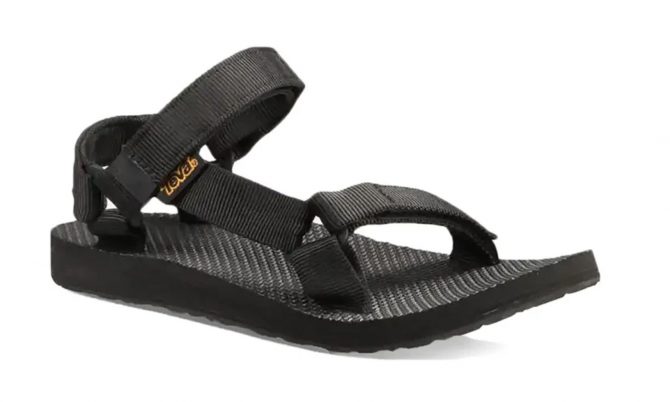 14. Teva Original Universal Sandal
Comfort: 3/5
Style: 1/5
Durability: 5/5
Ideal for trekking to the lesser-known spots that require a bit of a hike, Teva's Original Universal Sandal locks you in with adjustable straps for a secure fit, adding a traction-enhancing rubber sole that's ready for just about anything. Made with water-ready polyester webbing, they dry quickly if you need to give yours a rinse. They may not be the most stylish on this list, but what the iconic silhouette lacks in fashion, it certainly makes up for in function. You gotta protect your feet. Period. These accomplish that in spades – especially for harder to access beaches.
Disclosure: The Inertia may receive a small commission if you make a purchase from the affiliate links included in this feature at no additional cost to you. Our goal is always to entertain, educate, and inspire, and we hope you find this feature useful.