---
---
Whenever you have the good fortune to get a new board, you'll get the pleasure of treating yourself to a brand new traction pad, too. (And maybe a leash.) Traction pads, stomp pads, deck pads, grip, whatever you want to call them, are an essential piece of equipment for your board. Unless you're a weirdo who likes only using wax, or a Gerry Lopez type who only gets barreled and nothing else, you'll want something on the back of your board to keep your foot in place.
The main benefit of traction pads is that they keep your foot on the back of the board when you push through turns. Another less obvious benefit of the traction pad is that it helps with your foot placement. It's easier to feel where your back foot is in relation to the board when you can tell your foot is off the traction pad, on the traction pad, or slammed against the raised kick of the pad. Developing an awareness of your foot placement will help you progress your surfing by letting you adjust your foot placement according to what you're trying to do on the wave.
How to choose the best surfboard traction pad
When it comes to picking the best traction pad for your surfboard, there are a few ideas to keep in mind. I am a strong adherent to the philosophy of conforming black wetsuits and white surfboards. I won't recommend crazy colorful designs for your traction pads. If you want some color, accessorize your leash. If you want something eye-catching, aside from a spray, your traction pad is probably the only place you can show your individuality on a white surfboard. But that's me. There are plenty of colorful options available, but that's really a distraction when it comes to the basic function of a traction pad.
So when it comes to deciding what traction pad to choose, you can take the short answer with my battle-tested picks here:
1. FCS – Julian Wilson Traction Pad
2. Channel Islands – Mixed Groove
3. Octopus – Hobgood Hybrid
4. Ocean and Earth – Owen Wright Signature Series
5. Creatures of Leisure – Griffin Colapinto Signature Traction
6. Astrodeck
7. Dakine – John John Florence Pro Surf Traction Pad
8. Sympl Surfboard Traction Pad
Or…you can figure out what will help you ride better by understanding what goes into a good traction pad. Different strokes for different folks. And each feature accomplishes something slightly different. Let's dive in.
One-piece or multiple pieces for your taction pad?
Most grip pads come as either one solid pad or a mixture of pieces. The most common set up is either a two-piece grip or a three-piece setup. The primary benefit of a single piece traction pad is that it's easy to install. It's one piece. Sometimes, though, the single pad doesn't quite fit onto your board properly. This is where two- and three-piece traction pads come into play. They allow you to better customize your traction pad to the shape of your board.
Though multiple-piece traction pads offer more customization for your board and foot placement, they also offer more variables that can go wrong. There are many good five-piece traction pads. But, they can be more work to install on your board and have more pieces that could potentially peel up.
Raised arch or no raised arch?
The arch bar really comes down to personal preference. A raised arch is more comfortable when you have your foot slammed all the way to the back of the traction pad. It sits, nestled under your foot's arch. But, if you move your foot around while you surf or don't always have your foot all the way back, you might think about no raised arch. It will allow you more mobility with your back foot.
High kick versus low kick.
The kick is there to stop you from kicking your back foot off of your board when you attempt to turn. The height of your kick depends on what kind of surfing you want to do. More radical surfing? You'll probably want a higher kick. If you ride a fish or midlength and just want to cruise, you can probably get away with a little kick on your traction pad. Otherwise, anything over 25mm should be fine.
Front deck grip or no deck grip?
Are you hucking huge airs? Do you hate wax? If you answered yes to either of those questions, a deck pad might be for you. If you're like most surfers, though, you probably don't need it.
If you look at the pros who use deck grip, most are air specialists. You can still rip on the face of the wave with a forward deck pad, but it's in the air that you'll find it more helpful.
One thing to note about chest grip is that it is likely to rip up your chest. If you thought the rash from wax was bad, you haven't tried trunking it on a deck pad yet. If you live in a cold water place where you're wearing a wetsuit all the time anyway, it's a different story, and a chest grip might be worth checking out.
How to install your first traction pad.
Installing your traction pad can be a tricky business. If you're not sure what you're doing, just get the guy at the shop to do it for you. If you want to do it yourself, (and depending on yourself is always the best bet) there are a few things you need to know that will help you.
The traction pad goes way further back than you'd expect. Don't be like the guy on Craigslist who put the traction pad 6 to 10 inches forward of the tail. Place it just forward of the leash plug above the back fin in a thruster setup. The back of your traction pad dictates how far back you can put your back foot. Your back foot is the spot you pivot from when you turn. If it's too far forward, good luck trying to turn. Rookie mistake.
Line the pad up with your board's stringer to get it straight. The stringer is one of the few straight lines on a board, so try to match it up as best as you can. If you're riding a Firewire or some other stringerless, EPS construction, it can be tricky to end up with a tail pad that's not crooked.
Don't put the entire pad down at once. It will make it more likely that you'll have air bubbles in your traction pad. Instead, put part of it down while holding the rest above the deck. Then slowly roll the rest of the pad onto your board's deck.
The Best Traction Pads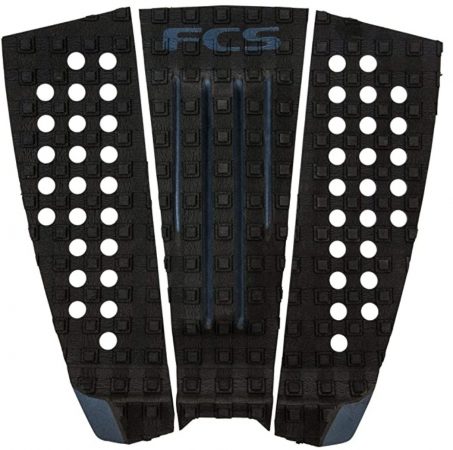 FCS – Julian Wilson Traction Pad
FCS traction pads are built to be grippy. Sometimes, that can mean that they aren't the most comfortable when you brush your shins and ankles over them. But, you won't have to worry about your foot slipping off. The Julian Wilson model has tons of features to help you stay on the board. With channels and holes throughout for added grip.
One impressive feature about this grip is its thinness. You won't feel like you're standing on a memory foam mattress with this pad. The thin deck pad lets you maintain board feel as you push through your fins on turns. Overall, this traction pad's thinness helps you feel more in control and like your board is more responsive.
Specs:
– 3-Piece Pad
– High Tail Kick
– Trapeze Arch Bar
Cost: $45
Ratings:
Grippiness: 5 out 5
Durability: 5/5
Comfort: 4.5/5
Style: 4/5
Overall: 4.75/5
I've found Channel Island traction pads tend to be very soft and comfortable under my feet. They're also thin, which gives you better board feel. The downside of all this thinness and comfort is that there's not as much texture to provide you with crazy, sticky grip.
That being said, there is enough contrasting texture in this pad to keep you on your board. The diamond grip has ridges on it to keep your foot from moving side to side. And, the tail kick will keep your foot from sliding off the back. But, if you have trouble with foot placement, you may struggle with this grip since your foot may slip to the back of the pad. Though this may make you fall more in the short term, it should help you in the long run.
Plus, it's nice to know that if you don't have feet like Fred Flinstone, there's still a traction pad out there that will be grippy without tearing your feet to shreds…
Specs:
– Three-Piece Pad
– 32mm Tail Kick
– 5 mm Arch
Cost: $41
Ratings
Grippiness: 4/5
Durability: 5/5
Comfort: 5/5
Style: 4.5/5
Overall: 4.5/5
If you've seen the clips Chippa Wilson or any of the other team riders have been putting out, you know that there's some serious grip under their feet. I was a little skeptical of the Hobgood Hybrid since it doesn't have an arch bar in the middle. But then again some of my favorite traction pads have lacked that too.
The cool thing about the Hobgood Hybrid is that it has different textures. The back has a more textured grip for better control through turns. But if you need to shuffle your back foot forward to pump through sections or barrels, you can easily feel where your foot is on the board. Not only do you get some help with your foot placement, but you can say goodbye to those summertime leg and knee rashes that come from the top of your traction pad since the top corduroy section is less abrasive.
Plus, it's a two-piece pad, which is easier to install on your board than the others on this list.
Specs:
– Two Piece Pad
– No Arch
– 25mm Kick
Cost: $42
Ratings
Grippiness: 5/5
Durability: 4.5/5
Comfort: 4.5/5
Style: 4/5
Overall: 4.5/5
Ocean and Earth – Owen Wright Signature Series
Ocean and Earth makes soft traction pads that are comfortable under your feet. Just because you sacrifice some leg rash potential, doesn't mean you're also sacrificing potential grip. The Owen Wright Signature Series makes use of diamonds that are wider and flatter than many other traction pads. The result is comfort on your legs when you paddle and under your feet when you stand.
One thing that stands out about the Owen Wright Signature Series is the kick construction. Unlike most three-piece pads, the kick is all one pad. But, the kick has flex in it, which means you can get the ideal stick on your board even with a rounded deck.
Stats:
– Three-Piece Pad
– 7mm Arch
– 25mm Kick
Cost: $43
Ratings
Grippiness: 4.5/5
Durability: 4/5
Comfort: 5/5
Style: 4.5/5
Overall: 4.5/5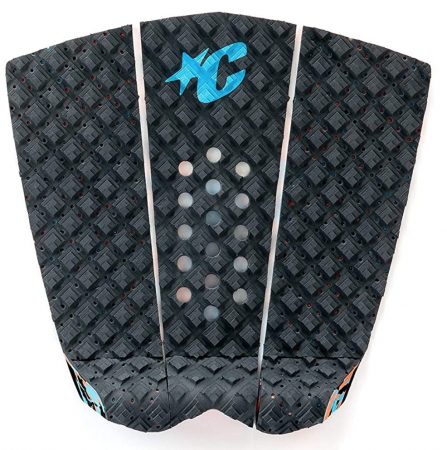 Creatures of Leisure – Griffin Colapinto Signature Traction
Creatures of Leisure is known for having intricate textures on their deck pads. The Griffin Colapinto Signature series is no different. Using stacking diamonds of descending size, this traction pad offers plenty of texture for you to find a secure footing. Plus, it's relatively comfortable since the grip comes from the different sized spaces between different heights.
The kick on this pad is very vertical. This is good if your main worry is making sure that your traction pad can stop you from kicking your foot off your board. But, if you are looking for different ways to adjust your back foot for maximum comfort, you may not be able to with this deck pad.
Stats:
– Three-Piece Pad
– 7mm Teardrop Arch
– 30 mm Kick
Cost: $45
Grippiness: 4.5/5
Durability: 4.5/5
Comfort: 4/5
Style: 4/5
Overall: 4/5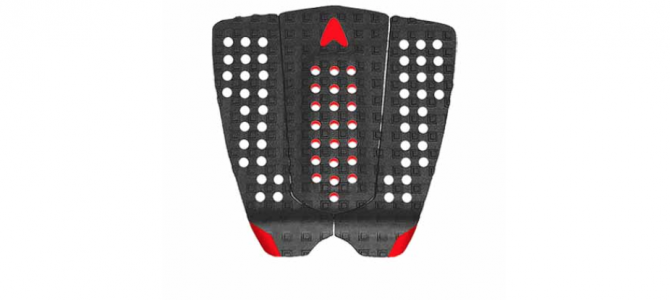 The OG deck traction pads. I find these traction pads to be extremely grippy. So if you're after pure traction, they can be a good choice. One thing to note about them, though, is that they can get too raw and grippy where it feels like you're ripping the skin off of your shins and knees with every wave you catch.
Grippiness: 5/5
Durability: 5/5
Comfort: 3/5
Style: 3.5/5
Overall: 3.5/5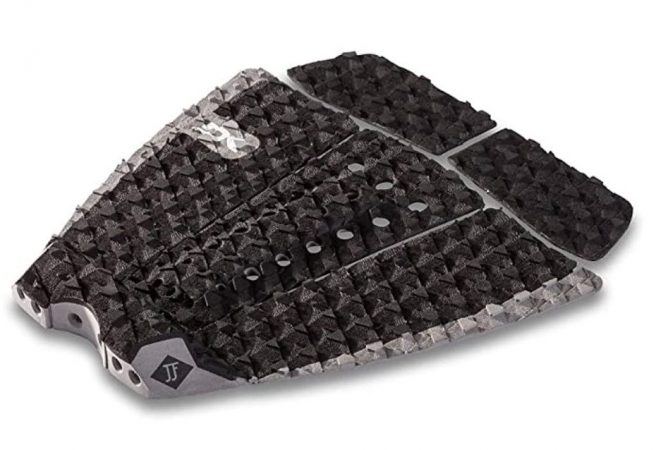 Dakine – John John Florence Pro Surf Traction Pad
Dakine knows how to make traction pads that are extra grippy. The JJF Pro Surf Traction Pad is no different. With plenty of texture including cut outs, the JJF Pro Surf Traction Pad offers plenty of grip and a soft comfortable surface for your back foot.
The 5-piece grip offers a huge space for any surfer to put their back foot. Whether you are trying to push through turns or shuffle your foot forward when pumping or trying to shoot through a barrel, you can trust your foot to not slip off.
I've had bad luck with Dakine traction pads in the past when it comes to durability. I like to keep the same pad on a board for a long time and I've noticed many of my Dakine pads start to peel up after a while around the edge. Despite that problem, I've definitely found their traction pads to be awesome for grip.
Stats:
– 5-Piece Pad
– Arch
– 25mm Kick
Cost: $45
Ratings
Grippiness: 5/5
Durability: 3/5
Comfort: 4/5
Style: 4/5
Overall: 4/5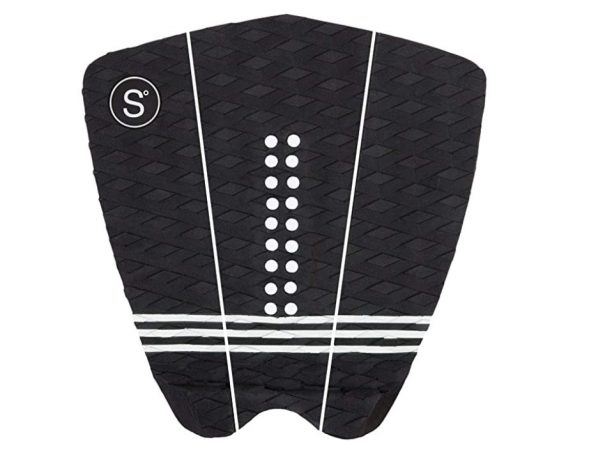 I was a little skeptical of Sympl Supply Co. at first too. The price seemed a little too good to be true so I figured it was likely one of those "exists only on Amazon" brands. I've since found out that these traction pads are legit and made properly.
With a team of pro surfers making signature models, you know that you're getting a product that will actually work which is always a relief. These traction pads may not hold up to the same wear as some of the other options, but think of the price. This is the ideal option for the budget surfer.
Stats:
– 3 Piece Pad
– Medium Arch
– High Kick
– Cost: $29
Ratings
Grippiness: 4/5
Durability: 4/5
Comfort: 4/5
Style: 4/5
Overall: 4/5
Check out our guide to selecting the best beginner surfboard, the best surf books of all time, and the best earplugs for surfing.
Disclosure: The Inertia may receive a small commission if you make a purchase from the affiliate links included in this feature at no additional cost to you. Our goal is always to entertain, educate, and inspire, and we hope you find this feature useful.