View this post on Instagram
It's summertime in the Northern Hemisphere. Which means south swells and warm (depending on your locale, anyway) water. It means long days, sand in your bedsheets, and days packed to the gills with fun stuff. It's party waves and beach parties, cold beers and basking in the shade of an umbrella. And, if you're in the business of having fun, it means riding a surfboard made for one thing: having a blast. While all surfboards are technically made for having a blast, soft tops are particularly devoted to it. So, in the never-ending effort to increase the amount of fun people are having, here's a list of soft top surfboards that will increase both your wave count and your smile count.
1. Wavestorm 8′ Classic Pinline Surfboard: $236.88
Ah, the original soft top. Ridden first by beginners,  then later by absolute rippers and now by basically everyone, Costco's iconic blue and white (and yes, Rasta colors, too) will always be the Grandaddy of foamies. While the 8-foot version is likely the most popular, Costco has shapes and sizes all over the map. From a 5-foot swallow tail to a 10-foot SUP, the big box has a stranglehold on the foamboard market. Buy here.
2. Odysea Catch Surf Skipper Thruster Taj Pro 6'0″ Surfboard: 
Perhaps the second-most prolific foam board you'll see in summer lineups is the Odysea Catch Surf Skipper. Unlike the Wavestorm, the Taj Pro is shorter, fast, and floaty. While the original eight-foot Wavestorm might be a little stiff under the feet, this one slips and slides around on those summer days like a bar of soap, perfect for surfers with a little experience who don't want to beat up their favorite stick on a summer day while trying to carry umbrellas and coolers with the other hand. Buy here.
3. Formula Fun Shortboard Fish 5'3″: $265.99
As a person who likes to surf in the natural environment, you'd be right if you were concerned with what surfboards were made of. Foamboards snap often — as you've probably seen in garbage cans near the beach — and the stuff they're made from wreaks havoc on the environment. Formula Fun boards does it differently. Made entirely from recyclable materials, these boards aren't thrown in the trash. Once it's well and truly dead, you can mail it in or drop it off at the brand's Irvine, Calif. headquarters for a $50 credit towards your next board. And just because they're recyclable doesn't mean they're not fun, either. They have, as the name implies, the formula for fun. Buy here.
4. Wavestorm 5'6 Original New Modern Swallowtail Surfboard: $162.24
Like we said before, Wavestorm has a whole lot of shapes and sizes to choose from. While the O.G. Wavestorm is generally thought of as the classic blue and white 8-footer, they've branched into the modern day with this little swallowtail. Coming in at 5'6" x 21" x 2.75", it's got 42 liters of volume, which should be enough to float just about anyone. Buy here.
5. Boardworks Froth! Soft Top Single Fin Longboard Surf Board 9′: $379
Like most soft tops, Boardworks made the Froth to help people catch more waves. If you're into more of the classic longboard feel, the single fin you see above might be your style, but if you're not, Boardworks also makes a 7'0 funboard and a 5'6 shortboard. Buy here.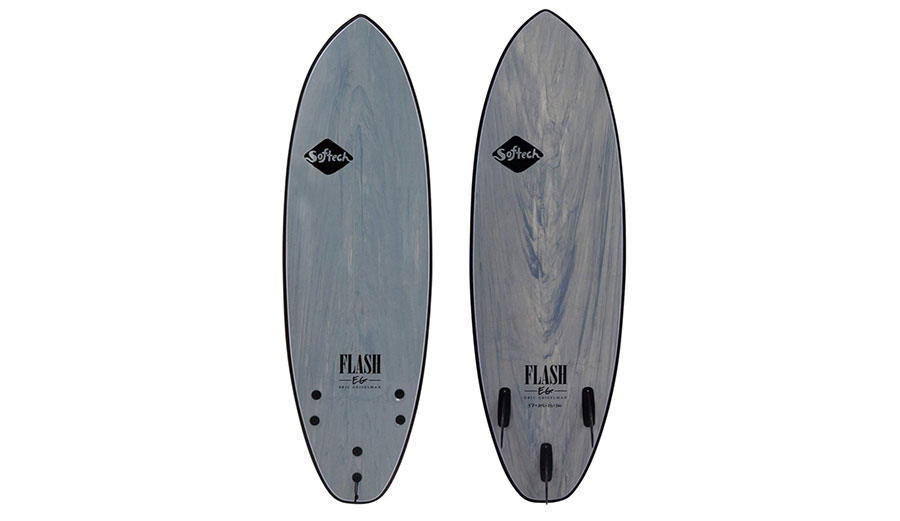 6. Softech Flash Eric Geiselman FCS II Surfboard Grey Marble 5'0″: $280.00
As you might have guessed from the name, this foam board leans a little more towards the shreddy side of things. The Eric Geiselman version of the Softech flash comes in 5'0″ x 20″ x 2 3/5″ or 5'7″ x 20 1/2″ x 2 2/3″. It has an FCSII setup and a 100 percent waterproof X-Density EPS foam core, which is nice if you're the type of person who dings boards. And be honest, you are that type of person. This is a great option for someone looking to still paddle into waves easily, but doesn't want to sacrifice too much performance. It also comes in a whole bunch of colors, if grey ain't your thing. Buy here.
7. Softech Mason Twin FCS II Surfboard Gunmetal 5'6″: $285
Hey look, Mason has one, too! It's a little different, obviously, but the basic idea is the same. Have more fun. Mason Ho's version of the Softech is a slippery little twin-fin that is created for one thing only: catching waves and doing fun things on them. Mason is one of the best in the world at doing those two things, so if he's got his name on it, it's probably a decent bet that it does both. Buy here.
8. South Bay Board Co. Guppy: $279
Guppies gotta learn, too. And that's what South Bay Board Co. created this six-foot wave-catching machine for: learning, especially for groms who don't get around the ocean every single day. The Guppy comes in kid-friendly blue jail stripes and is standard with fins and a leash. The price point means you won't lose your you-know-what if it gets beat to a pulp. Which it probably will. Buy here.
9. Wave Bandit Performer 4'10 Twin: $149.00
You want something tiny? This is for you. A mini twin that packs 35 liters into 4'10", the Performer has dual wood stringers so it feels a lot stiffer than the average floppy soft top. You know those times you pull into a wave with some chop and your soft top is literally bending under your feet? Yeah, not going to happen with the Wave Bandit. Buy here.

10. ISLE Nugget 4'11 Soft Top Surf Board Package: $195.00
Here's another little guy for you. At 4'11 and 34 liters, the Isle Nugget has two parallel wood stringers that are wrapped in fiberglass. It's a twinny, which, if you're into going fast, is good. And you are into going fast, right? The fin boxes are FCS compatible, and the bottom skin is made from superslick high-density polyethylene.